Title: キラボシチューン IN-VOLG 劇的インフィニティ
Release Date: 2018.08.24
CV(s): Kaito Ishikawa & Natsuki Hanae

Label: kira-tune

Type: Character Song (Drama+ Song)
Synopsis↴
The idol debut of the childhood friends, Reiji and Keima.
Unit composed of childhood friends Reiji Tohdoh and Keima Yanagi. They express their sex appeal through their lyrics, with a melody similar to a fierce bite. Charming with the powerful and straightforward singing voice of Reiji, and the delicate and sweet expressive power of Keima.
Characters: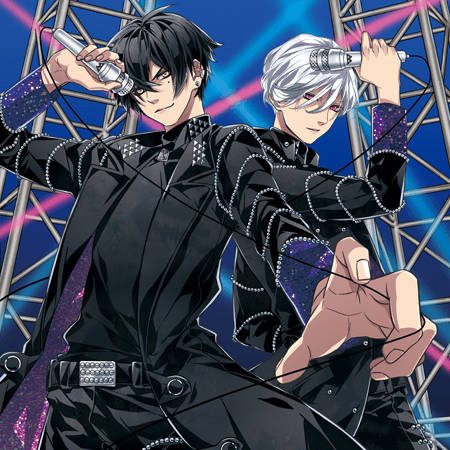 Reiji Tohdoh (CV. Kaito Ishikawa)
Age: 20 years old
Birthday: 1.11
Blood Type: B
Height: 185 cm
Killer Act: Black Flare Beat
He has received all kinds of education since he was a child such as: Sports, Cultural, Social, etc. For that reason, he is absolutely confident in his own ability, he is always determined to win and has a positive personality. Keima is his childhood friend. He is the son of the Tohdoh Group, one of Japan's biggest enterprises, and was raised to be the "Tohdoh successor", which he refused because he was fed up with his family's cold attitude. He met Keima around the time he was a primary student that would repeatedly run away from home, they got along well and became friends.
Keima Yanagi (CV. Natsuki Hanae)
Age: 23 years old
Birthday: 9.09
Blood Type: A
Height: 178 cm
Killer Act: Galactica Prism
Keima worked as a model before shifting entirely to his musical career upon the formation of "IN-VOLG". In the world of entertainment, he puts on a good and bright character, but in reality he is an introvert who doesn't show many emotions. Reiji is his childhood friend, and one of the few people he can trust. Contrary to his cool attitude, he's the meddlesome type with the people he's close with, and he's also really good with housework. He's particularly skilled at cooking, no one surpasses the stew he makes (According to Reiji).
---
※Please consider donating if you enjoy my translations. You can also show your support by shopping using my affiliate links. It's greatly appreciated! (◕‿◕)♡
※Please DO NOT REPOST, RETRANSLATE, OR USE my translations in any way without permission. Translation may not be 100% accurate.
Liesel's Sinful Corner:
I feel like this project needs much more attention! I've already said this, but Kaito Ishikawa's & Natsuki Hanae's voices go REALLY WELL together. I was sold the second I listened to their song preview.
No shame, I already pre-ordered the CD lol (Hey, I'm a sucker for idols! 😂) I'm not really sure how to write Reiji's last name since in the official site it's spelled Tohdoh, Tohdo and Todo lol (make up your mind Reiji!) 😂 I think Keima is my favorite so far, Reiji looks fierce but Keima looks so sexy 😉