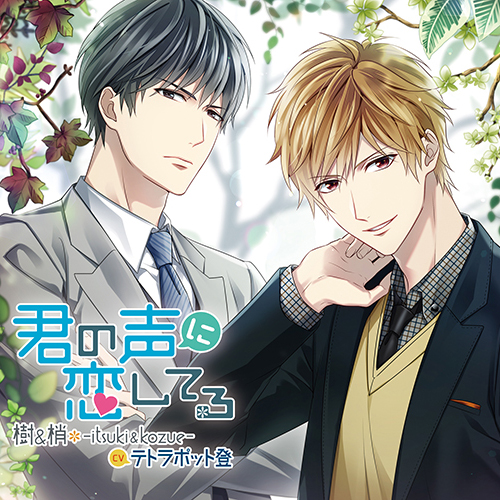 Title: 君の声に恋してる 樹&梢―itsuki&kozue
Release Date: 2019.01.23
CV: Noboru Tetrapod
Label: GOLD
Type: R18 Doujin CD
Synopsis↴
"We'll deliver a wonderful erotic experience ♪"
That phrase caught your attention when you turned to the page "I'm in Love With Your Voice"
You can pick any man of your choice, your favorite tone of voice or type, the location you prefer…etc. so that it can be an "Erotic Experience CD" made "just for you."
Out of curiosity you "request" the "delivery."
You begin listening to the CD just for the laughs, but he begins talking to you and orders you to…
You will "begin to fall in love" with him as "your boyfriend"–.
Character(s):
Name: Itsuki (Kozue's Senpai)
Height: 178 cm
He is your coworker, a cool type sadist. He is always cool and collected, he is the type to use detached and harsh words even when having sex.
Name: Kozue (Itsuki's Kouhai)
Height: 172 cm
He is your kouhai, a koakuma type sadist. Despite being cute like big dog, he is the type to enjoy seeing you embarrassed when having sex.
---
※Please consider donating if you enjoy my translations. You can also show your support by shopping using my affiliate links. It's greatly appreciated! (◕‿◕)♡
※Please DO NOT REPOST, RETRANSLATE, OR USE my translations in any way without permission. Translation may not be 100% accurate.