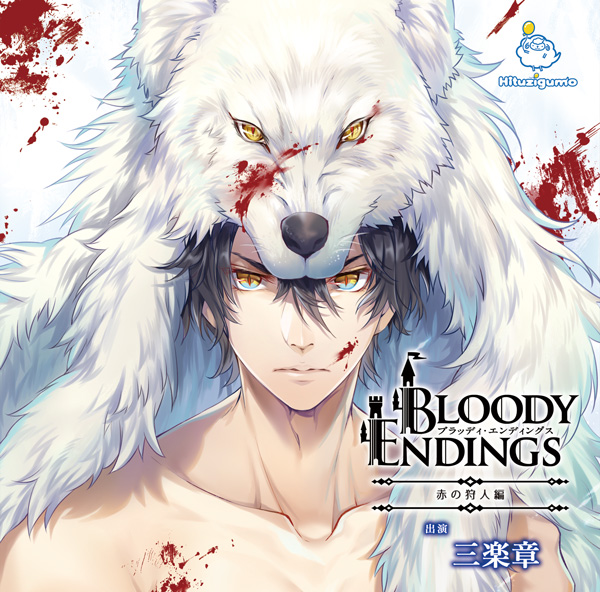 Title: Bloody Endings 赤の狩人編
Release Date: 2019.01.25
CV: Akira Miraku
Label: Hituzigumo
Type: R18 Drama CD
※Enjoy my content? ❤ Please consider supporting me by donating and/or shopping using my affiliate links, it's greatly appreciated! 😘
Synopsis↴
Deep in the lost woods, there was a strange custom of hunting that was practiced by the villagers in order to keep the village safe from the outside. The women had to wear red riding cloaks. You, his non-blood related sister, also had to wear a red riding cloak, but he kept you safe with a type of prayer. He intended to release you before anything happened――. Would the two of you unleash a fate of madness? The answer was right before his eyes――.
Character:
Jill
A young man who lives as a hunter. Manly and with a generous personality, he is a doting brother to you even if you're not related by blood. When it's the night of the full moon, he sneaks out of the house.
Height: 182 cm
Catchphrase: My little sister can't be this cute.
Likes: Meat
Hates: Vegetables
Preference for: B*stiality
---
※Please DO NOT REPOST, RETRANSLATE, OR USE my translations in any way without permission. Translation may not be 100% accurate.
Liesel's Corner:
I wonder what this hunting is all about, I mean women are the "Little Red Riding Hoods" so do they capture them and the smut happens??? 😉
In short: Brother uses some kind of prayer to protect his "sister" from strange village custom, gets fucked up ending. 😂 Of course, brother here had to be in love with his sister, I am so glad they are NOT blood related lol
Update (2019.02.05):
And the award for the weirdest character in Bloody Endings to date goes to Jill! lol Not only does he have the hots for his (non-blood related) sister, but he's also into b*estiality. I almost choked on my drink lol I can explain though! Surprise, surprise someone *cough* Jill *cough* is going to be the big bad wolf going after "Little Red Riding Hood". Still though, it seems he will be having his way with her in his beast form. Not that I'm complaining though. 😏