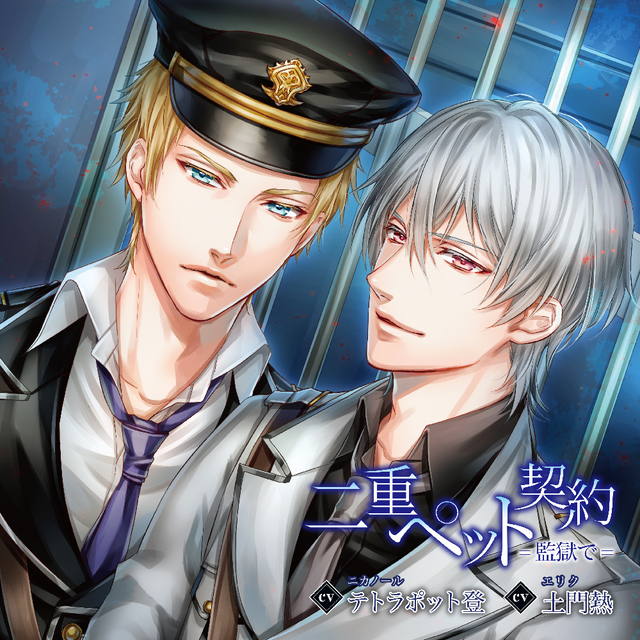 » Title: 二重ペット契約=監獄で=
» CV: Atsushi Domon & Noboru Tetrapod
» Release Date: 2019.06.26
» Label: Vanilla Recipe
» Type: R18 Drama CD
※Enjoy my content? ❤ Please consider supporting me by donating and/or shopping using my affiliate links, it's greatly appreciated! 😘
Synopsis↴
You were imprisoned under false charges. The warden Eric tells you that there's a possibility you could be released earlier if you let him put a "collar" on you, and you accept for the sake of your ill younger sister. After Nikanor, the guard in charge of your area, takes pity on you, he tells you the story of a prisoner that tried to break out of prison in the past……
Character(s):
Eric Katsalapov (CV. Atsushi Domon)
The prison's warden. He climbed his way from a life of poverty to the position of warden due to his pure effort, however, he has strong hedonistic and sadistic tendencies, and will toy with your body and mind.
Nikanor Savosin (CV. Tetrapod Noboru)
The guard in charge of your area. He will follow his superior's absolute orders, and takes his duties seriously, he hides the fact that he has fetish in which he lusts after those that are in a pitiful state.
---
※Enjoy my content? ❤ Please consider supporting me by donating and/or shopping using my affiliate links~ It's greatly appreciated! 😘
※Please DO NOT REPOST, RETRANSLATE, OR USE my translations in any way without permission. Translation may not be 100% accurate.