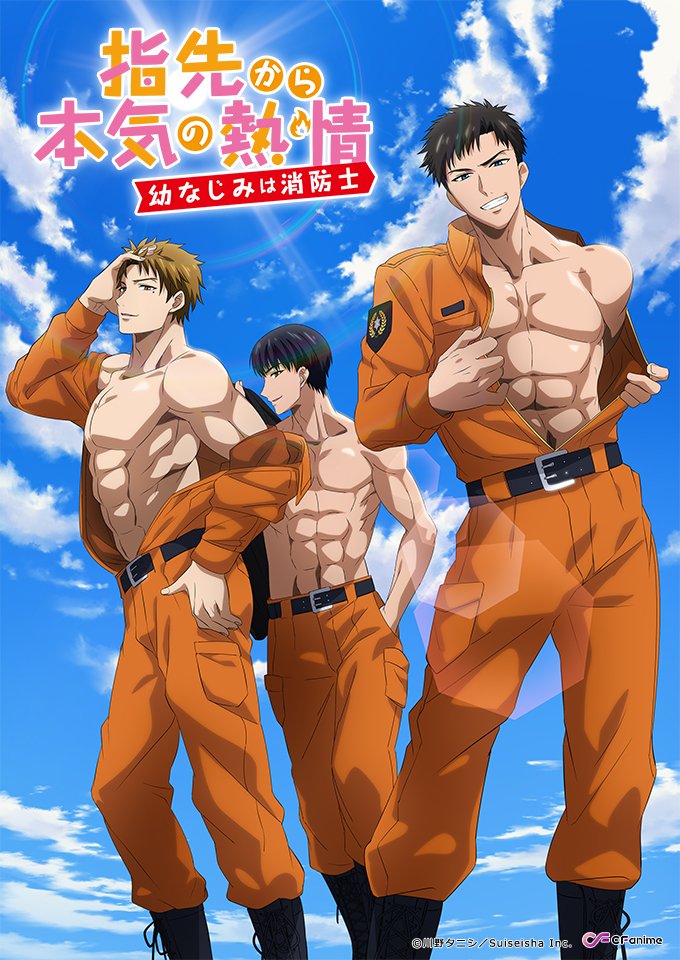 TL Comic 指先から本気の熱情~チャラ男消防士はまっすぐな目で私を抱いた~ (Yubisaki kara Honki no Netsujou ~Chara Otoko Shouboushi wa Massugu na Me de Watashi wo Daite~)by Tanishi Kawano is getting an anime!
Release Date: Summer 2019 (July)
Synopsis
Ryo's childhood friend and firefighter, Soma, asks her to set up a mixer every d
ay. Falling for such a flirty man is out of the question…Or at least that was what Ryo thought, but one day, the apartment building where she was living in burned down and she started staying over at Soma's place!
While they're living under the same roof, Ryo decides that she will be cautious and will keep a distance…but she gets close to him when she takes a look at his injury from the time he saved her from the fire–it would be better if he stayed as her childhood friend, but as she sees the passionate gaze in his eyes for the first time, she can't refuse him any longer–.
Characters:
(From Left to Right)
Soma Mizuno (CV. Kento Ito / Tengu Margarine)
25 years old / 186 cm / Born May 5
Hobby: Reading
Ryo's childhood friend, and a firefighter who enjoys going to mixers. All his words and actions are flashy. Yet, he's quite a serious person deep inside.
Jun Hase (CV. Wataru Komada / Yuu Asagi)
28 years old / 180 cm
Hobby: Darts
Soma's & Izumi's senior. A gentleman especially with women. He's good at dealing with things.
Yuki Izumi (CV. Tomohito Takatsuka / Kinniku Ii)
25 years old / 187 cm
Hobby: Taking care of his beloved dog. (Miniature Dachshund)
A firefighter and Soma's colleague. The mood maker that brightens the atmosphere. He's currently looking for a girlfriend.
(From Left to Right)
Ryo Fujihashi
24 years old / 162 cm / Born August 7
Hobby: Jogging
An OL at a manufacturer. She has a positive personality, and is the type to be a leader that everyone looks up to. She's a former member of the track and field club and is a fast runner.
Megumi Sasahara
25 years old / 160 cm
Hobby: Art Appreciation
Ryo's colleague. She puts her heart into her work and is friendly with everyone. She is somewhat unladylike.
Ayako Shinoda
27 years old / 161 cm
Hobby: Gardening
An OL from a different company than Ryo's. A carefree, open-minded, mature woman.
Midori Watanabe
23 years old / 158 cm
Hobby: Cafe-hopping
She's Ryo's junior. Her younger nature makes her good at getting spoiled. She loves girl talk.
---
Where to watch?
Japanese
» Official YT Channel (FREE) Censored Version, no EN subs available.
» Official Site (FREE) Censored Version, no EN subs available.
» Official Site ($$$) Full Version, no EN subs available.
※ New episodes air every Sunday
w/ English subs
» Official YT Channel (FREE) Censored Version
» Official Site ($$$) Full Version
📖 READ ONLINE
JAPANESE
ENGLISH
Coolmic.me: Fire in his Fingertips
💌 Liesel's Sinful Corner
When I first saw the guys in their regular clothing I was like "Excuse you, but why do all the guys look so thick????" 👀👀👀 I felt personally attacked because OMG they didn't look THAT thick to me in the images I saw from the manga, but who was I to complain. I'd still take them all because they're yummy af. Then the images in their work attire were posted and I almost got a heart attack like HOT DAYUM. 🤤
Izumi is currently looking for a gf? Umm, hello! I'd like to sign up! 😘 Actually, can I take them all? Thank you.
I hope I'm not wrong, but there seems to be a girl for each guy and I think that's really cool! 😁 It seems that Jun & Ayako are anime-only characters.
A few days ago, I shared some screenshots with 4 of the guys: Soma, Izumi, Miike & Kawamura. It seems that Miike and Kawamura won't be coming out in the anime and I'M SAD. I guess they're introduced in the later chapters that won't be covered in the anime or something (idk I haven't read it).  😢