⚠️ Please note that this work is recommended for ages 18+, so proceed at your own risk.
Entremets has announced a new R18 otome game for PC called Star's Lover "Real Koi" datte, ii janai! (Star's Lover "リア恋"だって、いいじゃない!)!
It is scheduled to be released on July 26, 2019.
Synopsis
The heroine, Airi Hanasaka, is just an ordinary college student. She's a huge fan of the idol group "HEARTiS"! And, she starts dating one of the members after she was confessed to by him…!! Having such a popular man all to herself is nice, but dating an idol is difficult. Full of excitement with ups and downs, what things will come from the love between an Ordinary Girl x Male Idol……!
Character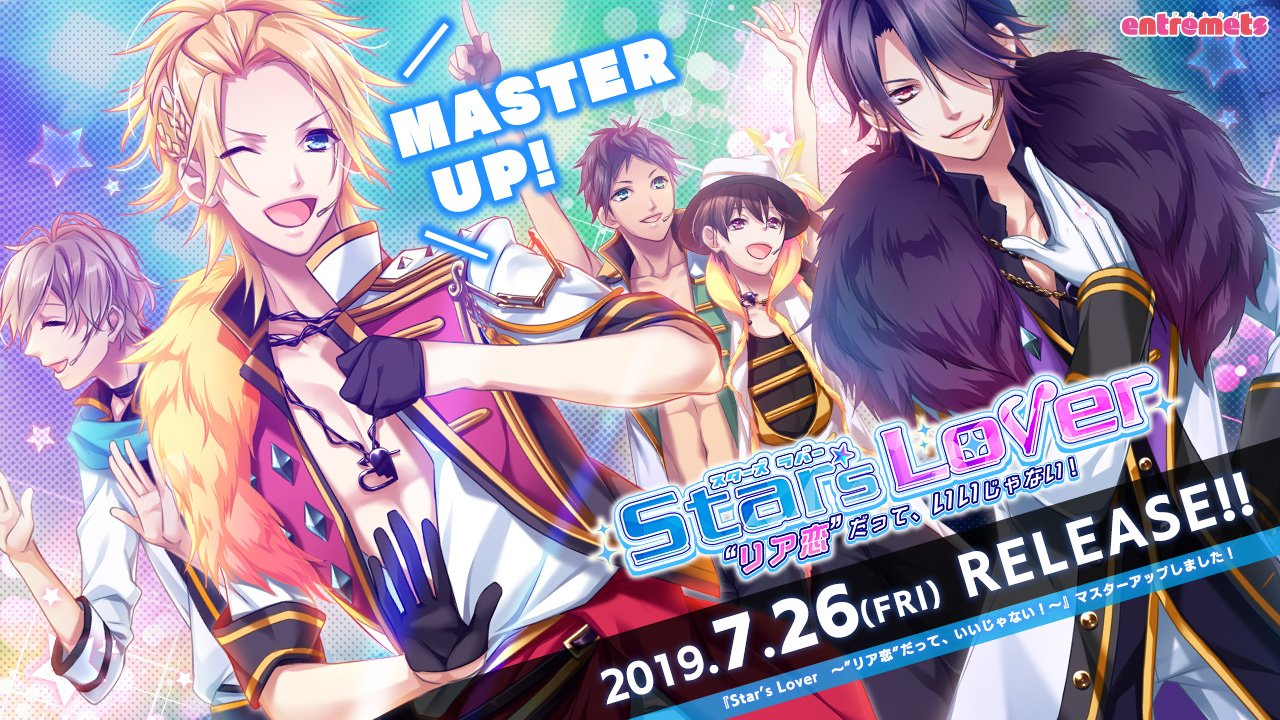 Airi Hanasaka -Heroine-
A young woman with a blooming love for idols. Kind x Straightforward x Idol Otaku
Height: 159 cm
Hobby/Talent: Cooking
Likes: Idols
Hates: Exercise
Akira Doumae -Main- (CV. Manaka Sawa)
From ordinary star to super idol. Ore-sama x Player x Hard worker
Height: 169 cm
Blood Type: O
Birthday: August 1
Hobby/Talent: All kinds of physical training (especially skateboarding)
Likes: Nikujaga, Women
Hates: Ghosts
Rihito Ookouchi -Main-(CV. Hirai Tanktop)
Born to be a wonder, a prince with too much sexiness. Cool x Sexy x Prince
Height: 172 cm
Blood Type: B
Birthday: December 25
Hobby/Talent: Horse riding, Cello
Likes: Sushi
Hates: Exercise
Souta Suzumaru -Sub-(CV. Rikuou Zaou?)
A wolf disguised as a boy with a cute face.Younger x Friendly x Unexpectedly Manly
Height: 168 cm
Blood Type: O
Birthday: March 3
Hobby/Talent: Guitar, Going back to sleep
Likes: Manga, Anime, Games
Hates: Wasabi
Kaname Momogaki -Sub-(CV. Nanami Aoba)
Popular yet useless onii-chan. Onii-chan x Airhead x Artistic
Height: 175 cm
Blood Type: AB
Birthday: June 7
Hobby/Talent: Creative Activities (Painting, Novels)
Likes: Humans
Hates: Being alone
Keigo Hachibuse -Sub- (CV. Nagamachi KNOCK)
Speaks through his eyes, a future leading actor. Taciturn x Earnest x Childhood friend
Height: 178 cm
Blood Type: A
Birthday: September 20
Hobby/Talent: Acrobat, Visiting temples & shrines
Likes: Costumed mascot character
Hates: Hot things (cat tongue)
GAME INFO
Title: Star's Lover "Real Koi" datte, ii janai!
Original Title: Star's Lover "リア恋"だって、いいじゃない
Release Date: July 26, 2019
Developer: Entremets
Rating: R18
Platform: PC
Official Links
---
Liesel's Sinful Corner
I've been waiting for them to release the PV for so long so that I could post this omg lol I love the song, been listening to it for some time now. 🎧
I feel like I can understand the heroine's love for idols very well 😂 As an (2D/2.5D) idol otaku myself, I feel like I'm going to enjoy this game very much lol Super excited for this game! I'll try to get me hands on it sooner or later. Super salty about not being able to date Souta the Shota (was that intentional?! 🤣) & the Onii-chan character lol Actually, I'm super salty that we can't date ALL of them. I'll give the childhood friend some love too lol