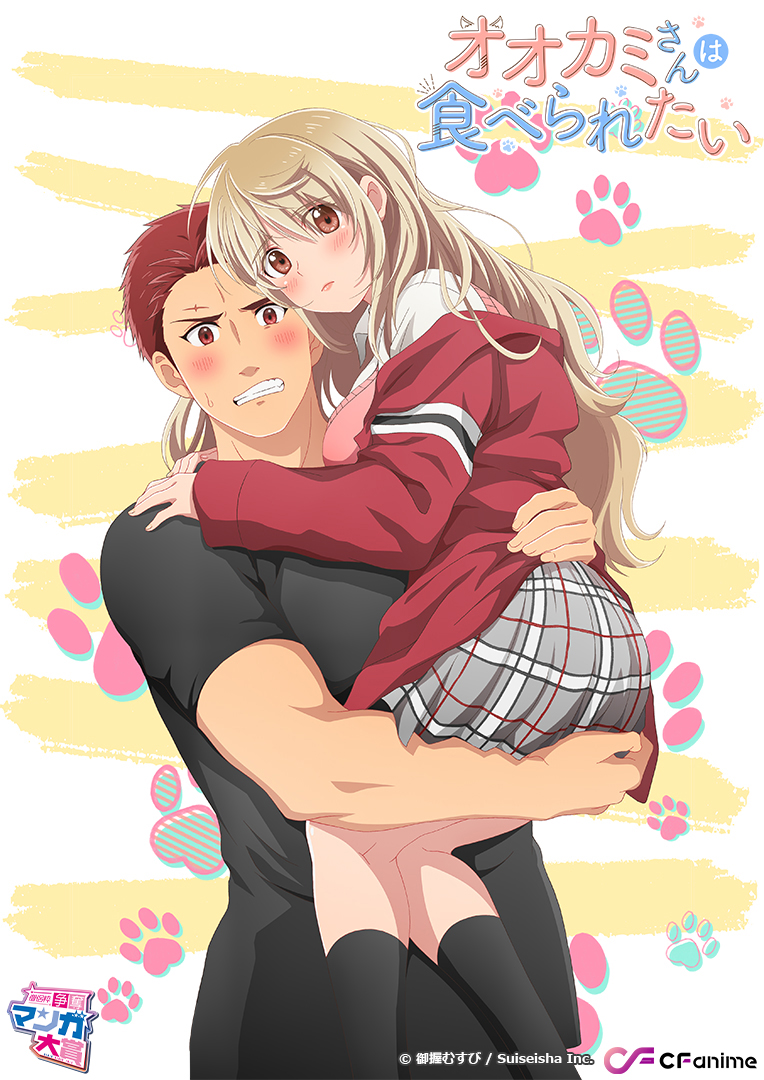 TL Comic オオカミさんは食べられたい (Ookami-san wa Taberaretai, I Want to be His Prey) by Musubi Onigiri is getting an anime!
Release Date: Fall 2020
SYNOPSIS↴
"I want to be eaten by Akazu Sensei"
Hinako Okami had her skirt stolen by the the rumored "skirt thief" old man. Her teacher Akazu just so happened to be passing by and helped her. However, the truth was that Hinako had her skirt stolen on purpose, so that she could get closer to her teacher.
"I want to become sensei's one and only…!"
Hinako locked the door, turned off the power and straddled him.
She tried seducing him with every means possible. He was conflicted because of his position as a teacher, but he eventually gave in…
What will be the fate of the red riding hood teacher being targeted by a cute and perverted wolf?
CHARACTERS:
Hinako Okami
Height: 152 cm
Blood Type: A
Birthday: July 1
Tatsumi Akazu (CV. You Suzuki)
Height: 183 cm
Blood Type: O
Birthday: March 13
Rei Obayama (CV. Kazuma Hoshino)
Height: 174 cm
Blood Type: AB
Birthday: April 7
---
📺 WHERE TO WATCH? 
JAPANESE DUB
Official ComicFesta YT Channel (FREE) Censored Version
Official Site (FREE) Censored Version
Official Site ($$$) Full Version
ENGLISH SUBS
Official Coolmic YT Channel (FREE) Censored Version
Coolmic ($$$) Full Version
※ New episodes air every Sunday
📖 WHERE TO READ?
Coolmic.me ($$$) Official EN Translation, Title: "I Want to be His Prey"
⁎⁎⁎ ⁎⁎⁎ ⁎⁎⁎ ⁎⁎⁎ ⁎⁎⁎ ⁎⁎⁎ ⁎⁎⁎  ⁎⁎⁎
💌 LIESEL'S SINFUL CORNER 💌
I'm not a big fan of teacher x student or student x teacher relationships tbh, so I'm not sure if I will watch it (or read it) Not to mention that the teacher is not my type lol 😅 Now the school nurse on the other hand is yum yum 😍😍😍
---
※Enjoy my content? ❤ Please consider supporting me by donating and/or shopping using my affiliate links~ It's greatly appreciated! 😘
※Please DO NOT REPOST, RETRANSLATE, OR USE my translations in any way without permission. Translation may not be 100% accurate.